There's a common misconception that some people are natural-born public speakers and others aren't. However, public speaking is never that black and white.
According to some estimates, 75% of the general population has a fear of speaking in public. For some, it can be some butterflies in their stomach, while others may truly shut down in fear. No matter the case, if you get nervous about public speaking, you're not alone.
Luckily, public speaking is a skill that can be improved with practice. And one of the best ways to hone your presentation skills is to know the common mistakes to avoid.
Here are seven common public speaking mistakes people often make, with tips so you can take steps to overcome them.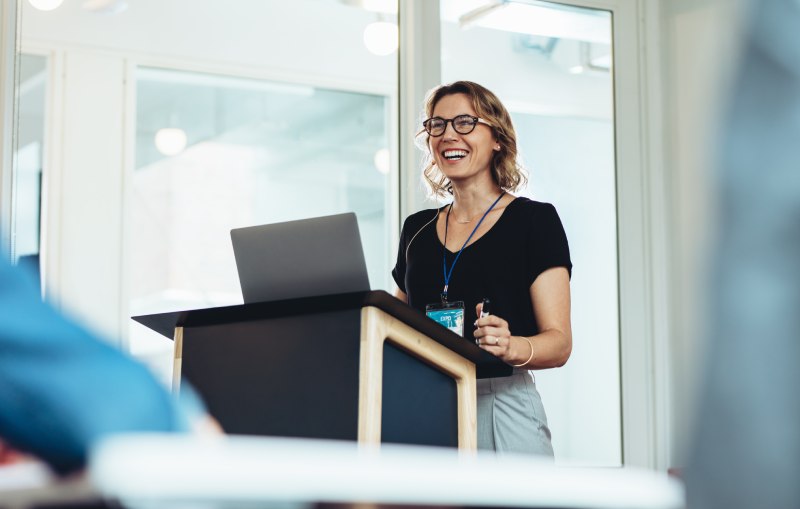 1. Not Making Eye Contact
This is one of the most common presentation mistakes, especially when you're giving a speech or presentation with visual aids. It can be easy (and feel safe) to simply read from a slide or look at the ground when you're speaking, but these are bad habits.
Eye contact is one of the best ways to engage with your audience and makes your speech feel more like a conversation rather than a monologue. Plus, maintaining eye contact throughout the presentation can make you appear more confident, no matter how you're feeling inside.
Pro Tip: Try to keep eye contact with different audience members for at least two to three seconds or as long as it takes you to complete a phrase or sentence.
2. Talking Too Fast
Many bad examples of public speaking include a presenter talking too fast. The pace at which you speak is critical for getting your message across. The experts at LinkedIn explain that when you talk too fast, you can come across as nervous, "salesy" or impatient. Your audience may miss key points of your presentation or tune you out.
Pauses are the key to a good presentation. Pay attention to your pacing and use pauses to your advantage to emphasize your main points.
3. Sounding Monotone
Another example of poor public speaking is lacking energy or sounding monotone. No one wants to sit through a boring presentation, and your mannerisms and tone of voice can make or break your speech.
Using engaging and appropriate body language and facial expressions can help put you and your audience at ease. Similarly, make sure to speak conversationally and not in a rehearsed, monotone voice.
4. Distracting Mannerisms
While it's important to move around during your speech and use gestures, you don't want your mannerisms to be distracting. According to Inc., there are at least 20 common bad public speaking mannerisms to avoid. Here are a few:
Pacing back and forth
Clenching or wringing hands
Keeping your hand in your pockets
Licking your lips
Touching your hair or clothes
Fidgeting with a pen or other item
Most of the time, these common mistakes in oral presentations happen subconsciously because you're nervous. You may not realize you fidget with your ring while you give a presentation until you watch it back. That's why it's important to rehearse and record your speech, watch yourself back, and nip these bad habits in the bud.
5. Using Filler Words
Presenting in front of a crowd can be nerve-wracking, and in an effort to not leave any empty space, you may use filler words like "ah," "um," "like," and "you know." Using filler words can make you appear uncertain or not confident.
Rehearsing your speech and practicing when you'll pause can help you use every word wisely. Remember, pauses are a good thing!
6. Misusing Visual Aids
The experts at Entrepreneur explain that visual aids are a great way to bring your presentation to life. However, you never want to rely on them to get you through your speech.
For example, many speakers will create a PowerPoint slide with images, graphs, or key talking points to use. But these slides should never have too much text or design elements that you talk through verbatim.
If your visual aids are distracting or boring, you're hurting your presentation.
7. Speaking too Softly
Finally, we can't overlook how volume is another common mistake in public speaking. It's important to find a sweet spot, so you're not speaking too quietly or too loudly. You want to sound confident and relaxed to get your point across to your audience.
Now that you know the most common mistakes in public speaking, you can make sure to avoid them. Browse the eSpeakers Marketplace today to learn more public speaking tips from the best!