The #1 question on speakers' minds today:
How do I transition to a virtual presenter?
Becoming an online speaker is necessary for today's digital landscape. With this accolade added to your resume, you can broaden your reach and impact more lives with your words.
If you're ready to pivot to virtual, start by becoming a Certified Virtual Presenter, a new certification administered by eSpeakers. It's a great way to let your customers know you've got the equipment, environment, and skill to deliver a great presentation, no matter where you're located.
Event organizers are looking for speakers who can present in a virtual capacity. There's a growing need for online presenters; experts who can deliver their message remotely, with impact, are highly valuable as we navigate these strange times.
If you want to set yourself apart from your collegues and make it easier for hosts looking for an online speaker, you can gain the Certified Virtual Presenter badge and proudly display it on your website, email signature, online profile, and other marketing material.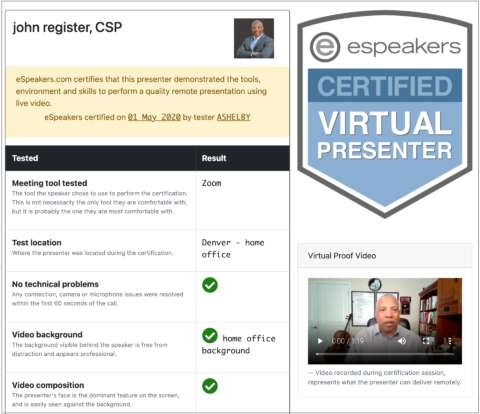 WHERE DO I START?
First, review this "How To Prepare" article. Here, you'll learn everything you need to know about preparing for your demonstration. Consider this your interview preparation for becoming a verified online speaker.
When you're ready to certify, schedule your appointment to become a Certified Virtual Presenter with eSpeakers.
What you need to know about the certification
You will spend 30 minutes in a live meeting with one of our certifiers. Here, you'll be asked a series of questions and showcase your ability to deliver a great remote presentation. The assessment ends with a recording of you giving the 30-60 second virtual proof video.

As long as you can prove that you have the equipment, environment and skill to provide a presentation remotely, you'll pass the certification test without question.

Once certified, you will receive an email with instructions for adding the Certified Virtual Presenter badge to your website, email signature, and other marketing material. The badge will be added to your eSpeakers profile automatically.
Your certification fee
Any eSpeakers customer who has had a paid eSpeakers account (PRO level) for at least three months prior to certifying will have the $85 fee waived completely.

All other members, including free accounts through an association, can certify for $85 USD.
Becoming a Certified Virtual Presenter can give you the leverage you need to stand out against other online speakers in the digital age. eSpeakers has become the place where the speaking industry does business on the web. If you're ready to learn how to transition to a virtual presenter, visit our certification explanation page. If you're ready to receive your certification badge, schedule your appointment today.
GET CERTIFIED!
The certification only takes 30-minutes.