Take your profile and calendar to the next level, 
with eSpeakers Coaching!
Y

ou will receive the motivation, guidance, and support you need to create your ideal online profile, leverage your EventCX calendaring system

and maximize your experience with eSpeakers.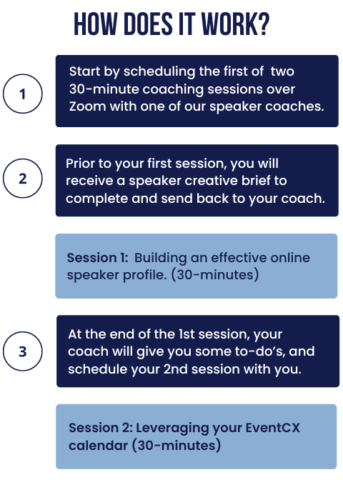 eSpeakers Coaching Services
Coaching: Two 30-minute sessions for $299.
Copywriting Services: Our professional writer will create a new audience benefit statement and full bio for $495. Just want to tighten up what you already have? Our editing pass for $150 catches and repairs grammatical errors and awkward sentences.
Linkedin Recommendation Transfer: If you add them and eSpeakers verify, the first 10 are free. Anything after that is $5 each for eSpeakers to verify. If eSpeakers adds them for you and verifies, they are $10 each to transfer the recommendation and verify it to your eSpeakers profile. 
Follow-up Coaching: When you have completed your two-speaker coaching sessions, you can book up to 3 follow-up 30-minute coaching sessions. Each session is only $99, this offer is good for 1-year after the initial coaching sessions. 
In each coaching session, you'll be one-on-one with an eSpeakers Coach who has 10+ years of industry experience. Get started today with tailored feedback, and a speaker coach who will help you develop and execute a growth plan through eSpeakers.
New to eSpeakers? Let us help you set up your profile and EventCX calendaring

Been with us for a while and want to

maximize your experience with eSpeakers?
Your eSpeakers coach can help you either by guiding you through the steps or by doing the work for you.
Is coaching a good fit for you? Schedule a pre-coaching call with eSpeakers to give you an idea of what to expect.
Upon successful completion of your Speaker Coaching sessions, you will be able to:
Optimize your eSpeakers profile for impressions

Maximize your eSEO score, and get to the top group of our directory search results

Develop an effective event-lifecycle strategy with leads, holds, and confirmed events

Take advantage of eSpeakers growth features such as Lead Center, SpeakerTrack, EventCX, and Action Lists.

Connect your speaking calendar to your CRM, accounting software, and daily calendar